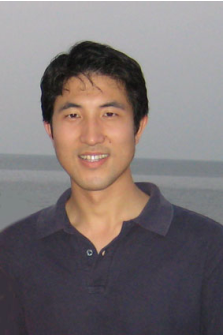 郑乐民 博士
Lemin Zheng, Ph.D.Phone:010-82805452
Fax: 010-82802769
E-mail:Leminzheng@gmail.com
Chemistry, 1994-1998, Beijing Normal University, China B.S.
2005

美国克利夫兰医院

/

克利夫兰州立大学临床生物分析化学博士
Clinical/Bioanalytical Chemistry, 2000-2005, Cleveland Clinic/Cleveland State University, United States Ph.D.
工作经历
Professional Experience
Ins. of Cardiovascular Science, Beijing, China
2005-2007

美国克利夫兰医院所属公司(

PrognostiX Inc.

)研究科学家
Research Scientist
,
PrognostiX Inc. owned by Cleveland Clinic, USA
2001-2005

美国克利夫兰医院细胞生物系与蛋白组学研究中心做研究助理
Research Assistant, Department of Cell Biology and Proteomic Core, Lerner Research Ins., Cleveland Clinic, USA
Research Associate, Institute of Photographic Chemistry, Chinese Academy of Sciences, Beijing, China
研究室成员:
潘兵 (Bing Pan),男,博士,助理研究员
季亮 (Liang Ji),女,硕士,技术员
刘东辉 (Donghui Liu),男,博士生
马奕晶 (Yijing Ma),女,研究生
任慧 (Hui Ren),女,研究生
孔金阁 (Jinge Kong),女,研究生
于宝琪 (Baoqi Yu),女,研究生
胥良 (Liang Xu),男,共同培养研究生(福建医科大学附属医院)
研究室概述:
目前,在中国、美国和其他很多国家,心血管疾病已经超过恶性肿瘤,成为威胁人类生命和健康的"一号杀手"。动脉粥样硬化是一种慢性炎症疾病,氧化应激是导致其发生、发展的因素之一。本研究室以动脉粥样硬化及其相关疾病为研究对象,研究氧化在疾病发生发展中的作用,以及如何预防和诊断动脉粥样硬化。
我们以HPLC-MS及其他蛋白质组学技术为核心,利用从临床收集的有关病例和样本,分析研究心血管病的各种标志物,如蛋白质、蛋白质翻译后修饰,脂质氧化和其他小分子等,同时,应用生物化学和分子生物学方法,研究这些标志物的传导通路及功能。
Research Description:
Heart disease is the leading cause of death in China, USA, and other countries. Atherosclerosis has been demonstrated as a chronic inflammatory disease. Our research goal is to understand the process of disease development, and to prevent and diagnose cardiovascular disease. We use cutting-edge proteomic and metabonomic technologies to investigate protein and small molecule markers, which are involved in the development of cardiovascular disease. Collaboration with hospitals provides clinical evidences for finding these cardiovascular markers. Biochemical and molecular biological tools help discover the pathways and functions of these biomarkers.
Selected Publications (2000-Present):
1. Zheng Lemin, Settle M, Brubaker G, Schmitt D, Hazen S, Smith J, Kinter M. "Localization of nitration and chlorination sites on apolipoprotein A-I catalyzed by myeloperoxidase and

associated oxidative impairment in ABCA1-dependent cholesterol efflux from macrophages" the Journal of Biological Chemistry. (2005) 280, 38-47.
2.

Zheng Lemin, Nukuna B, Brennan M, Sun M, Goormastic M, Settle M, Schmitt D, Fu X, Thomson L, Fox P, Ischiropoulos H, Smith J, Kinter M, and Hazen S. "Apolipoprotein A-I is a selective target for myeloperoxidase-catalyzed oxidation and functional impairment in subjects with cardiovascular disease" the Journal of Clinical Investigation. (2004) 114, 529-541.
4.

Wu Z, Wagner M, Zheng Lemin, Parks J, Shy J, Smith J, Gogonea V, Hazen S. "The refined structure of nascent HDL reveals a key functional domain for particle maturation and dysfunction" Nature Structural & Molecular Biology. (2007) 14

(

9

)

861-8.
5.

Ghosh S, Janocha AJ, Aronica MA, Swaidani S, Comhair SA, Xu W, Zheng Lemin, Kaveti S, Kinter M, Hazen SL, Erzurum SC. "Nitrotyrosine proteome survey in asthma identifies oxidative mechanism of catalase inactivation" the Journal of Immunology. (2006) 176(9), 5587-97.
6.

Comhair S, Xu W, Ghosh S, Thunnissen F, Almasan A, Calhoun W, Janocha A, Zheng Lemin, Hazen S, Erzurum S. "Superoxide dismutase inactivation in pathophysiology of asthmatic airway remodeling and reactivity" the American Journal of Pathology. (2005) 166, 663-674.
7. Peng D, Wu Z, Brubaker G, Zheng Lemin, Settle M, Gross E, Kinter M, Hazen S, Smith J. "Tyrosine Modification Is Not Required for Myeloperoxidase-Induced Loss of Apolipoprotein A-I Functional Activities" the Journal of Biological Chemistry. (2005) 280(40), 33775-84.
8.

Nicholls S, Zheng Lemin, Hazen S. "Formation of dysfunctional high-density lipoprotein by myeloperoxidase" Trends in Cardiovascular Medicine. (2005) 15(6), 212-9.
9.

Samoszu M, Brennan ML, To V, Leonor L, Zheng Lemin, Fu X, Hazen SL. "Association between nitrotyrosine levels and microvascular density in human breast cancer" Breast Cancer Research and Treatment. (2002) 74, 271-278.